The last of the visitors have just left and Mick and I are having a little chill out time. I've put on the Ocean Sounds CD I bought at the garden centre on Wednesday and hopefully Mick is dreaming of a warm, tropical beach as I write this post.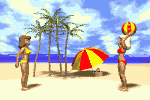 Ahem...less of the scantily clothed young ladies please Mick!!!"
We all had a great time last night. Although it's not officially Manda's birthday until tomorrow, as we were all together she opened her presents. She was really pleased with the Tenacious D DVD I'd bought her and especially excited hat Mick had bought her The Lost Boys DVD (WITH commentary)....
it has been her favourite film for so many years and her old video copy was well past it's "sell by" date.
Lynn & Steve bought her copious amounts of photograph printing paper so AT LAST she will be able to print out the numerous photos she's been taking with the digital camera she got for Christmas.
We all had a turn of the Orgasmatron head massager that Leanne & co bought her. If you enjoy having your hair played with it's a must have toy........





it gives a lovely tingly sensation...









even Mick had a go!


The Chinese take-away was delicious;and we all had massive helpings
though some people did manage a little of the apple flan......in fact Mick managed TWO helpings!
Manda enjoyed her "special" drink.......she loves Southern Comfort.....would you believe this bottle was empty by the end of the evening!!!....even more surprising is the fact she still made it round here at 9am this morning for a cuppa!!!
Sue came over for a drink too during the evening and regaled us all with stories of her childhood........but by 1am we were all ready for bed!
Just time for a sisterly goodnight kiss before Manda & co staggered home.
Manda is a little worried that, as she has such dark hair, she is going to succumb to a "lady" beard and moustache as the years take their toll on her youthful complexion. Last night she was convinced that she could feel a little stubble on her chin................I think it was just the effect of too much alcohol making her imagine things........drink can have that effect........what do you think?????