After I published my post this morning I went into the kitchen and had a really funny turn......I got the urge to CLEAN!!!! Not just general dusting and vacuuming.....nothing as simple as that....no I went into a full scale "Flash in a bowl, boiling water, rubber gloves" kitchen tiles, walls, doors cleaning mode! I was really worried, what was happening to me.....golly does this mean I'm suddenly going to enjoy ironing......NOOOOOOO!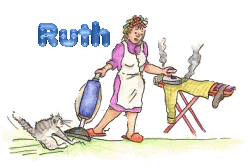 Now I know I said the other day that "this wasn't me"...but honestly this is going too far! I have my Miss Haversham street cred to think about!!!!
Thankfully after an hour (coincidentally... when the sun came out) and without the aid of any medicinal tablets or lotions....the feeling wore off. PHEW...........................
After this the day continued quite normally. I phoned, yet again, to request some sort of paperwork re the 8 weeks Carer's Allowance that I'm due. Once again I've been promised it will be in the post.......
WATCH THIS SPACE!
I also received my gas bill (the NEXT one should be lower) and realised that it was still in Mick's name. I thought I'd better phone them and ATTEMPT to get the name changed....from past experience I just knew it was going to be lot of hassle. Anyway, I phoned up Powergen; got straight through to a person; explained the situation; was asked my full name.....HEY PRESTO...DONE!!!! My gaster has never been so flabbered! If only everything was that easy.
After lunch the weather was still really warm but cloudy so I took myself off for a nice country walk...(a few photos on Me, My Life, My Garden)...isn't it strange how I could have happily stayed out all afternoon in the countryside yet a few hours out of the house and into the town fills me dread and panic...................